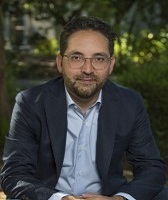 Director, Latina and Latino Studies Program
Office location: Crowe Hall, Room 1131
g-cadava@northwestern.edu


Geraldo Cadava is an Associate Professor of History, and an affiliate faculty member of the Department of Spanish and Portuguese. He received a Ph.D. in History from Yale University, and a B.A. in History from Dartmouth College. His first book, Standing on Common Ground: The Making of a Sunbelt Borderland (Harvard University Press, 2013), was about the Arizona-Sonora border region since World War II. It won the Frederick Jackson Turner Award from the Organization of American Historians, and was named a finalist for the David J. Weber-Clements Center Prize for the best non-fiction book on Southwestern America. His second book, The Hispanic Republican: The Shaping of an American Political Identity, from Nixon to Trump (Ecco, 2020), is about Latino conservatism and outreach by the Republican Party from the 1960s to the Present. His writing on the topic has appeared in The New York Times, The Atlantic, The Washington Post, The Los Angeles Times, and he has appeared on The Daily Show with Trevor Noah, MSNBC, PBS Frontline, and elsewhere. Currently he's at work on a new synthesis of Latino history. He teaches courses on Latinx History, Latin American migration to the United States, and the United States-Mexico borderlands.